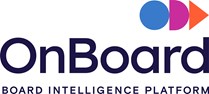 Powering Extraordinary Boards
Our board intelligence platform is designed to work the way you do, addressing real-world needs and reducing complexity so pension boards can work smarter, move faster and achieve more.
Give pension boards a single source of truth for everything from meeting management, operations to coordination with committees and leadership teams so they can collaborate seamlessly.
Setting the Standard for Board Management
At OnBoard, we help pension board of trustees to function at a higher level so they can make a bigger difference in the organisation they govern.
Pension boards set the pace, tone and strategy within their organisation. Yet the hand of digital transformation has been unable to reach most boardrooms. The next normal of governance requires new levels of collaboration and intelligence that digital technology adoption can uniquely provide. For OnBoard, this premise informs our bold vision: OnBoard is the realisation of our vision and mission – a born-in-the-cloud board intelligence platform that promotes deeper engagement and ensures big decisions are backed by clear insights.
Anticipate – Effective leadership means knowing what's ahead. We give boards and their teams technology that uncovers insights and simplifies meeting management so they can anticipate challenges before they arise.
Accelerate – Focusing on the path forward requires real-time decisions and sustained collaboration. We simplify communication to ensure every decision is tied to clear, meaningful data.
Advocate – Pension boards and administrators need secure, flexible solutions to realise their vision of the future.