Pensions and Technology a partnership made in heaven?
The PMI is focusing on technology at one of our major flagship events, the PensTech and Administration Summit on 7 November. Fintech is currently a buzz word within pensions but what does it all really mean and what can it do for members, trustees and scheme sponsors?
I was lucky to attend an FCA/ TPR hosted TechSprint where pension geeks and technology nerds got together alongside academics for a couple of days. We worked in teams of about ten to solve problems using technology. Within each team there was a variety of skill sets including machine learning and behavioural sciences. At the end of two days, each team presented its solutions. Whilst rough and ready, it was truly amazing what could be achieved in a short space of time, and importantly, but often forgotten, that different areas of expertise are needed to create solutions.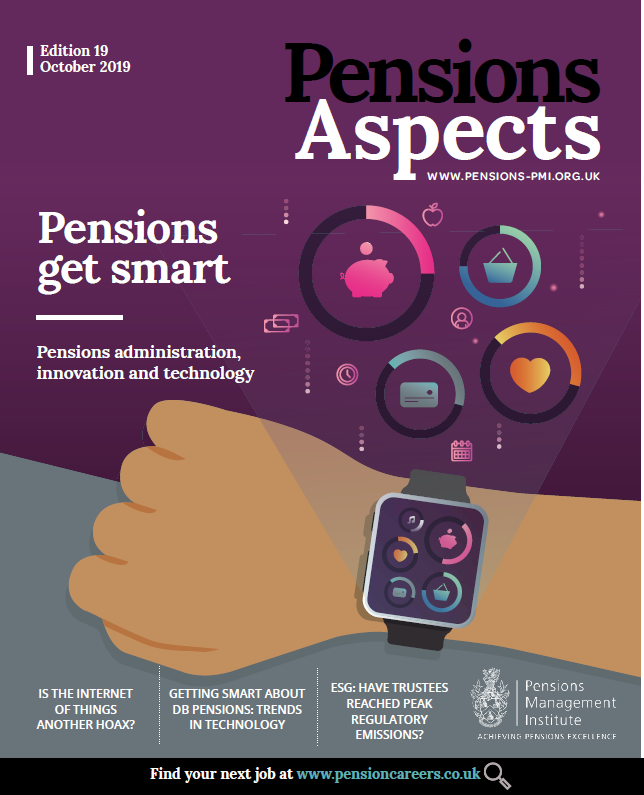 Technology can deliver efficiencies in administration and be used to engage and empower members. Complexity of legislation and scheme histories together with dodgy data and, in some instances, reservations by Trustee boards over whether using technology is appropriate for the members, has hampered our industry's ability to make full use of its power. Some interactive websites for pension schemes are not cost effective but as economies of scale improve, these tools can be harnessed for the good of the members. Today, administration providers are making use of robotics to carry out administration tasks. One provider stated that it currently has robotics in place that do 20% of the transactional work it carries out. Another uses robotics and complex algorithms to carry out bulk transactions and segmentation of the membership for personalisation of messages from the scheme.
However, technology isn't just about pimping up your administration platform or adding fancy modelling tools to your member website. It is part of a bigger picture of how we can combine the different technologies used to deliver pensions and work better together. How can we use the data we have accumulated over the years to greater effect? Technologies needed to deliver a holistic solution are starting to work together, for example, the Via Nova project allowed administration systems to send transactional information to and from investment administration systems. We have seen single and bulk DC transfers made easier through a trusted gateway and a number of administration platforms have integrated with asset and liability modelling systems for trustees to see funding levels. Although these initiatives are great, we need more, and we will see this when pensions dashboard comes along. Blockchain and its potential use needs to be considered but we must understand what it is and what it can do. If it does come into play in the world of pensions, we need to know what it can deliver, if it is cost effective and, given the complexity, if it would work for one or all parts of the industry. Hopefully the penultimate session for the PensTech and Administration Summit on Blockchain and AI will help enlighten us. So watch this space!
back to Pensions Aspects Magazine
Last update: 26 February 2021

Salary: £31500 - £37000 pa
Location: Berkshire
Salary: £70000 - £90000 pa
Location: Hampshire
Salary: £55000 - £75000 pa
Location: London
You may also like: