Recognising contributions to a positive 2019
Dear Members,
As the year draws to a close, I thought it opportune to let you know the challenges we have faced and successes your Institute has enjoyed during 2019, and some of the exciting plans we have for 2020 as we continue to deliver our Five Year Strategy.

Challenges
Many organisations continue to face uncertainty in the current political climate. For professional bodies, it has been harder to secure discretionary spend on such things as sponsorship, partnerships and education. However, I would like to thank all our sponsors, Insight Partners, exhibitors and student-employers for continuing to invest through these uncertain times.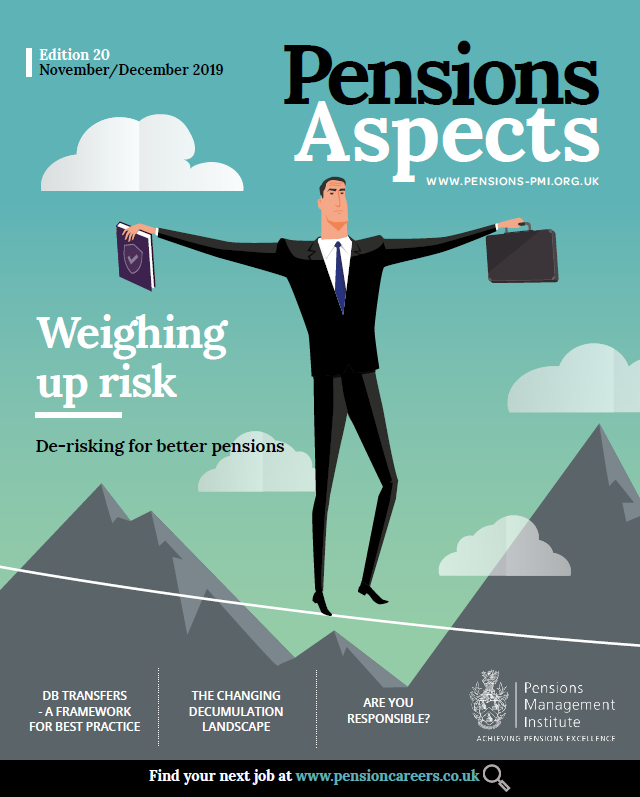 Successes
Your Institute has enjoyed a number of successes during 2019. Our flagship conference, Pensions Aspects Live, has proved to be more popular than ever, winning a silver Association Excellence award for the second year. We were also shortlisted for an award for this magazine, the Fellowship Network, and achieved a bronze award for our new Trustee Workbench seminar. This seminar has historically attracted around 70 delegates; this year we achieved 260. It is worth noting that we now have the largest trustee membership of any professional body and trade association in this sector. We shall continue to develop our proposition for trustees during 2020.
2020
The new year will see the launch of several new initiatives. We have been working with The Pensions Regulator and the Association of Professional Pension Trustees (APPT) on the launch of an accreditation programme for professional trustees. We have also developed a competency framework for the profession. We appreciate some firms have their own, but as a professional body we should have one upon which to base our own education and membership services. We hope to give this final approval this year for launch in 2020. On the back of that, we have been working on a review of our education and qualification services for some time. We ran a number of pilot programmes during 2018 and 2019, and have learned from these. Following final approval this year, we hope to move on to final consultation and implementation in 2020. Our aim is to further professionalise our education offering, enhance our services to learners and their employers, to stay relevant and provide services throughout members' careers. 2020 will also see the launch of our new website and engagement system. We have listened to the many observations and comments about our website and believe me, it was one of the first things I wanted to change when I arrived. Having tackled many other issues, the time is now right to provide all of our stakeholders with a much better service. We are in the final stages of development, cleaning and migrating data and will enter an intensive testing phase at the end of the year and into next year. Also, as the theme of this issue is de-risking, please reduce the risk of missing next year's Pensions Aspects Live by saving the date – 23rd April 2020.
In closing, your Institute could not achieve everything it does without the dedication of our staff and an army of volunteers, as well as our ever-increasing member body. May I take this opportunity to thank every single one of you and wish you a successful 2020.
back to Pensions Aspects Magazine
Last update: 26 February 2021

Salary: £31500 - £37000 pa
Location: Berkshire
Salary: £70000 - £90000 pa
Location: Hampshire
Salary: £55000 - £75000 pa
Location: London
You may also like: