I'm taking over the presidency of the PMI against the backdrop of a global pandemic and the potential for further restrictions to our personal freedoms as we face a second wave of the virus. I wouldn't have imagined this a year ago, when I chaired our annual DC Symposium in a room full of people keen to improve the outcomes for people in workplace pension schemes.
In the last Pensions Aspects, Lesley Carline shared her perspective on the two years of her presidency and everything that's been achieved during that time. I'd like to add my thanks to Lesley for her leadership. To say she's a hard act to follow would be an understatement and I will do my best to continue all the great work that's underway. In Lesley's 'end of term' video report she wished the new president good luck. I don't know whether I need good luck or just another day in the week!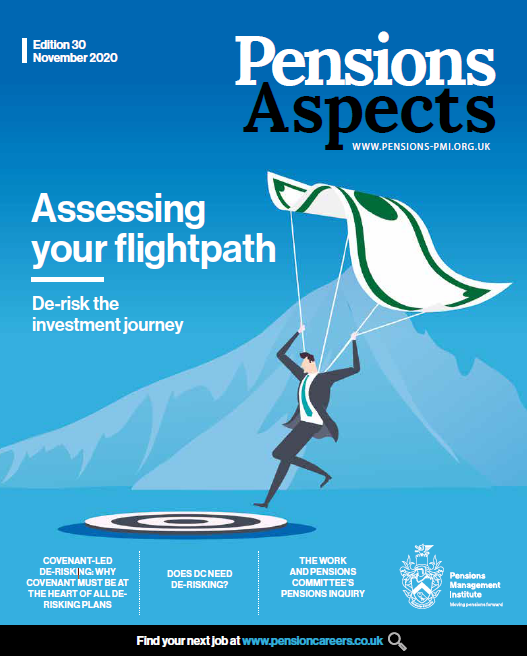 Congratulations to Sara Cook on her appointment to Vice President as she joins me and Tim Phillips for this coming year. I'm very much looking forward to working closely with both of them and I'm sure that they'll keep me on track although possibly not out of trouble.
I'm also looking forward to chairing our Advisory Council and offer a warm welcome to Raymonde Nathan and Robert Wakefield as they get their feet under that proverbial table. I would also like to thank our regional groups who play a vital part in linking Central PMI with our members outside London. Their close contact with members locally provides real value to our members and we need their input to deliver the right programmes to our members.
As we get towards the final year of the PMI's current five-year strategic plan we will focus on our vision for the next five years. I know that I can rely on our Council's combined knowledge, experience and foresight to bring that into being. Quite how we do this remains to be seen, although I expect we will continue to transact all our business and relationships online for the foreseeable future.
I don't want to say much about myself or how I found myself here today. Suffice to say I've been a PMI member for my entire career and have greatly valued the organisation and what it stands for. I think this can be exemplified by the way in which the PMI executive team, under Gareth's leadership, have responded to the Covid-19 pandemic. In a climate of fear and uncertainty, they have met the challenge head-on and have successfully adapted the qualifications, the events and member services to the online environment. At the same time, each has been well aware of the challenges of remote working and shown great concern for the wellbeing of the whole team. I want to thank them sincerely for all their work, particularly in the last six months. It won't surprise you to hear that I did join in with one of the Friday night tipples where I gave my extensive gin collection an airing!
Thinking about the next twelve months, I'm sure there will still be plenty to do. On the Policy and Public Affairs Committee we've been responding to an inordinate number of consultations with, it has to be said, some ludicrously short timelines, from government departments and regulators alike. It would be reasonable to assume that these are a precursor to further regulation and so we'll be looking to help shape that regulation and provide the necessary support and education to our members when it comes to implementation. It would be prudent to expect more changes when it comes to Environmental, Social and Governance (ESG), particularly in pension schemes' response to the existential threat of climate change. This is an issue close to my heart. I previously chaired UKSIF – the UK Sustainable Investment and Finance Association – and encouraged UKSIF to lobby government for real action and better reporting by pension schemes on ESG. For several years I felt there had been a lot of tick-boxing and 'greenwashing' within our industry, and that has to change.
Some of you will know that I have embarked upon an RHS gardening qualification. Never have I been so grateful for a few years of learning Latin at school, given the plant lists I have to study. This year I took some exams for the first time in 35 years. It was a labour of love and I had to use all sorts of devices to memorise crop rotation order! Lifelong learning is critical for us all in whatever form it takes. That's why we will be reviewing the PMI's suite of qualifications as well. With such dramatic changes to workplace pensions in recent years, particularly in respect of Master Trusts, defined benefit (DB) consolidation and buy outs, and with more to come, we want to make sure that our qualifications are relevant and coherent. Tim Phillips is leading this project with the Lifelong Learning Committee and the Qualifications Team and I'm really excited about our future suite of qualifications. For those who want to make a career in pensions, our role is to provide continuous learning and development, whatever form it takes. I'm equally excited about our fully accredited professional trustee qualification, APTitude, and I'm keen to extend accreditation to all trustees, lay and professional. We all know how vital accreditation is to the raising of governance standards. As my own experience with the RHS demonstrates, it doesn't matter how many years I've spent gardening, it's essential to acquire the right knowledge and have it tested.
I hold hard to Spiderman Philosophy – 'with great power comes great responsibility' and I have always believed that pension funds have great power, and therefore, great responsibility. Sometimes, as individuals, we can feel powerless in the face of pandemics, climate change, a struggling global economy and our own day-to-day challenges, however small. We can, and we must, act collectively for the common good to make people's lives better. We wonder why savers are disaffected and disengaged from pensions. I suggest it's because we've failed to capture their imagination and help them connect their own pension savings to the vital stake that they have in creating the society they want to live in. And it's a society that requires a radical re-think in which we can play our part.
And unlike some other presidents, this one will be wearing a mask.
back to Pensions Aspects Magazine
Last update: 26 February 2021

Salary: £100000 pa
Location: Home Working
Salary: £50000 - £80000 pa
Location: London (Stratford)
Salary: £27000 pa
Location: South Yorkshire (with Hybrid Flexible Working Option)
You may also like: