But how has that left us in terms of equality and equity? A positive impact of the present pandemic on education is the sudden embracing of online conferences and teaching technology: the consequences of this are potentially enormous. People all over the world can learn and teach to huge audiences at close to zero marginal cost. This will revolutionise the delivery of education and research, but as much as they bring to us, do they also take as much away?
The brave new world of the new normal brings with it new challenges and enhances ones already in existence. For the PMI, COVID-19 meant it had to move the delivery of qualifications and education to almost exclusively online and it had to do it quickly. It became, and still is, imperative, therefore, that we achieved the messages of equality and equity in the delivery of our education and qualifications offer.
But what do we mean when we suggest equality and equity – are they not one and the same thing?
The PMI has always been aware of equality and, since regulation of the Awarding Body, this has been central to the function of our delivery. This has meant that we now offer our qualifications to a lot more learners, and in a more accessible format.
To get to this point we had to ask the right questions.
For the PMI there were two questions. Before we decide on change, do we:
1. Understand equality?
2. Understand equity?
Although they are seemingly similar terms, the concepts of equality and equity approach education in different and important ways.
On the surface, the goals implied by the above questions might seem to be aiming at the same result—even the terms might seem to be about the same idea. But, when thought about carefully, each concept carries different assumptions about learners and the learner outcomes; both concepts are equally important, and both can easily be misapplied.
Therefore, understanding the differences between both of these ideas—and asking the right questions—was extremely important to us.
Each concept carries implicit underlying assumptions about what is 'fair' as they relate to (for the PMI) the types of qualification on offer. Each concept also carries implications about how learners should be treated and what resources are necessary or given to complete the qualification.
A common understanding of educational equality (from a PMI perspective) is that we offer all learners undertaking the same qualification the same specification, same access to past papers etc. (structure).
A common understanding of educational equity is that all learners should be given the education they need to achieve certain outcomes i.e. anyone else who sits that qualification gets access to the same materials or receives the same level of education, hence the learning materials website development (content).
This way all learners will (should) have an equal chance.
Both of these ideas make sense at first glance, and they clearly connect to ideas of fairness.
But look at the illustration below. As demonstrated, the assumed logic of equality gives all learners the same amount of any item, such as the same number of boxes to stand on. In contrast, the equity orientation acknowledges the different needs of individuals and how they all require specific support to be able to reach a similar goal.
To extend the metaphor in this picture, the educational equity orientation reframes the discussion and orients it around ensuring that the PMI helps all learners to achieve, even if that means distributing resources 'unequally.'
'Unequally', in this case, is at the core of the suggestion. We want all learners to achieve, no matter who they are or what situation they find themselves in; whether this means allowing extra time, different formats, empathy of a particular situation or even - as we have seen understanding that the internet does not always perform as well as we would like it to when we expect it to. Equity means that we will attempt, at all times, to help all learners if they encounter any difficulties or obstacles in their path to taking one of our qualifications, and that is before, during and even after the exam.
As we progress further into this brave new world we will have to investigate better, ask better questions, deliver better possibilities and achieve better outcomes.
We are moving in the right direction, but we have not arrived at the destination yet.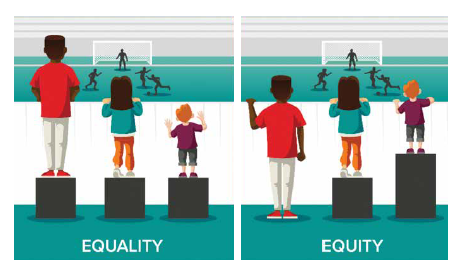 back to Pensions Aspects Magazine
Last update: 4 February 2021

Salary: £80000 - £130000 pa
Location: Work from home, with travel to client meetings/office as required
Salary: £25000 - £38000 pa
Location: East Sussex, 2-3 days work from home
Salary: £27000 pa
Location: South Yorkshire (with Hybrid Flexible Working Option)
You may also like: