After introductions from the panellists on the prospective new normal at their own organisations, attendees were encouraged to contribute to the discussion. Topics included the 'where' and 'when' (e.g. end of '9 to 5') of work; work/life balance; culture; productivity; collaboration; training and development; and client meetings and presentations.
The event was attended by around 40 delegates and, in addition to a good discussion on what roadmaps out of lockdown look like for different businesses in the Scottish financial services sector, and what workers in that sector would like to see in terms of work/life balance, a series of polls were conducted and the results of these are reproduced below. Key findings included:
Most people expect their organisations to adopt a hybrid working model
Very few individuals expect to be working full time in an office; around half of the respondents don't want to return to the office, and half of those are actually dreading it
Most believe the option to work from home, or lack of it, will impact staff attraction and retention
The consensus is that company culture has changed for the better
People are split on when it comes to the impact on collaboration and productivity, with an element of 'wait and see' in these areas.
Commenting on the discussion and results of the polls, Claire observed that "while there are a lot of considerations for employers in how to balance the needs of employees with those of their business and their clients, the general trend seems to be towards offering a greater level of flexibility, which is good to see. However, what struck me was the differences in individuals' perception; one person's dreaded commute is another's welcome de-stress time, and while some love the quiet of the home, others need the chatter of an office. It is these extremes where employee dissatisfaction is likely to be felt but that may be an unavoidable fact of the new normal".
John added "what resonated with me was the diversity of views and the fact that, at least for the Scottish region, there is no one-size-fits-all in terms of the new normal. I would encourage other regions to conduct similar polls with their members, which will allow the PMI to then build up a better picture of differences and similarities between regions in terms of their responses to the lifting of lockdown restrictions".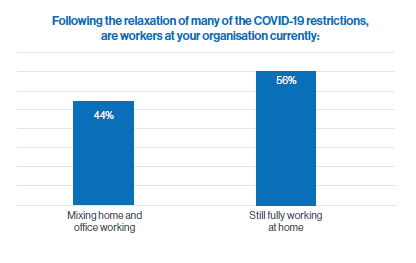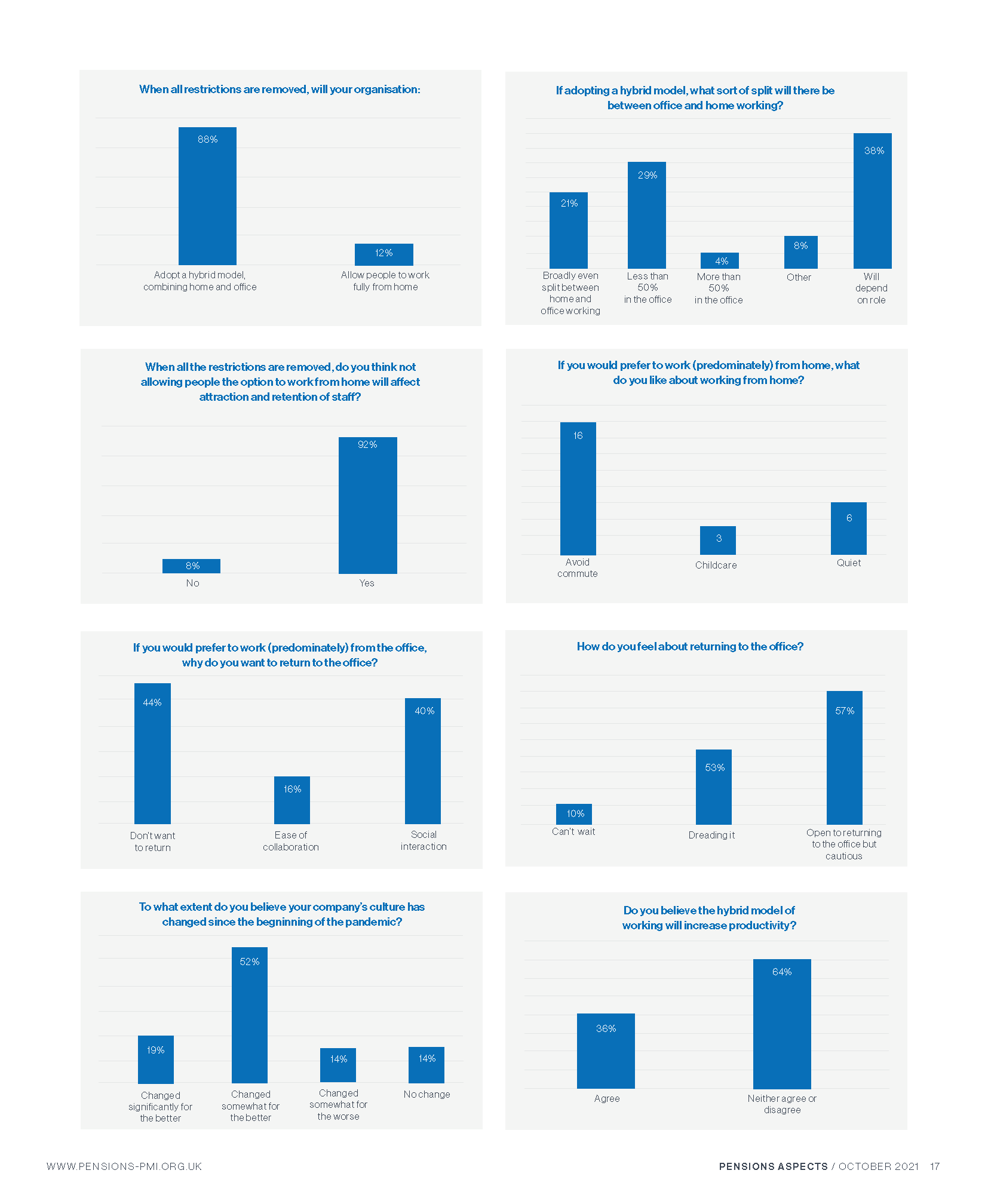 Notes/Sources
This article was featured in Pensions Aspects magazine October edition.
back to Pensions Aspects Magazine
Last update: 7 October 2021

Salary: £50000 pa
Location: Mix of Office (London or Birmingham, 1-day only) and Home
Salary: £100000 pa
Location: Home Working
Salary: £50000 - £80000 pa
Location: London (Stratford)
You may also like: