Welcome to 2017
Last year brought so many uncertainties on a national and global scale, some of which are still to be resolved. However, one thing is certain – your Institute is committed to developing and improving. During the Summer of 2016, we launched the process to deliver our 2022 vision. The process can be summarised in three words – Listen, Visualise, Deliver.
Listen
During the Summer we approached our key stakeholders – the Advisory Council, Regional Committees, Expert and Study Support Partners, large employers, key people in the industry, and many other interested parties. Many organisations asked their teams to respond. We also poured over our recent Career Development Survey to glean what you thought about us and what you really need from us. If you were one of the many hundreds that responded, thank you for taking the time to help shape the PMI for the future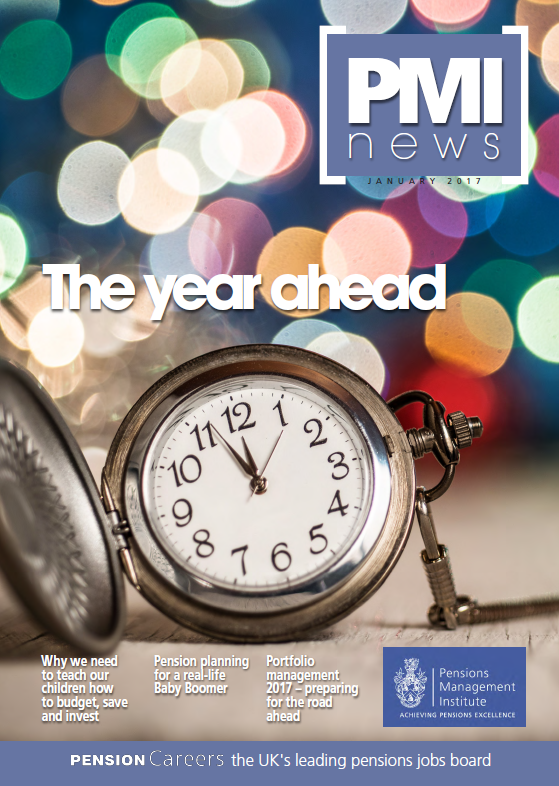 Visualise
During the Autumn we consolidated the results and started to imagine what the PMI should look like over the coming five years. We created the framework for our 2022 vision and tested it against what we had learned during the listening phase. What we saw was a very different PMI, a new, modern organisation, with a strong, relevant voice and with education and insight as core offerings.
Deliver
I am pleased to inform you that your Board has committed to the largest investment ever made in the PMI to deliver what you expect of us. There will be a very significant investment in 2017 but this will continue throughout the five years of our vision through to 2022. You told us that education was key. We will start by reviewing in detail our education platform.
You told us that we need to keep our qualifications relevant; to ensure the framework is easy to understand; that our processes are too cumbersome; and that our methods of learning and assessment have not kept pace with technology and modern lifestyles. We have the responsibility to deliver end-point assessments for the Trailblazer Apprenticeship initiative. We also understand that pension issues not only affect those that work in the industry, but also affect wider society too. We have listened. Starting in 2017, we will ensure that we deliver learning, education and career development suitable for the next generation. We want to help you, your organisation and wider society, develop, grow and achieve goals.
You told us that you want us to have better research and insight and that we should have a stronger, more authoritative voice. We have listened. We will begin to collaborate on such projects and ultimately generate better quality insight. We want to be the 'go-to' organisation and as one respondent put it – to inspire. Look out for your Institute in the national press and on TV. That's where we aim to be. You told us that our website is cumbersome, old-fashioned, too difficult to navigate, and that it needs to be more interactive. You told us you want to see better, more innovative communication, relevant to you as an individual or organisation. We have listened. We have drawn up plans to improve all of the above throughout 2017 and beyond. I look forward to the launch of phase one of our far better, more informative, interactive website in late Spring/early Summer.
Professional bodies like the PMI cannot run without the support from volunteers who willingly give time and expertise. You told us that in some cases we do not support you as well as we might; that we are sometimes too London-centric and we don't have a presence in all the places we should. We have listened. In 2017 we will ensure everyone working for the PMI, whether a staff member or volunteer gets proper training and induction. We will ensure everyone shares the vision and knows their role in delivering it. We will ensure we have representation geographically where we need. We will ensure we can better segment ourselves developing insight, events and education specific to those segments. We will also deliver better ways to support our overseas members and organisations.
You told us about our premises, that you don't enjoy meeting here, that we don't have facilities good enough to support you. You also told us that our processes are outdated and too manual. During the Spring of 2017 we will relocate to a modern, efficient office in order to be more productive and serve you better. We will become far more agile, recruiting and developing the skills we need to deliver our vision. We have already started to overhaul our processes and systems and will continue during 2017, to ensure we make your lives easier when you interact with us.
We have listened, we have visualised what we need to do. Now as 2017 starts, we look forward to delivering the PMI for 2022 and beyond. 
back to Pensions Aspects Magazine
Last update: 26 February 2021

Salary: £31500 - £37000 pa
Location: Berkshire
Salary: £70000 - £90000 pa
Location: Hampshire
Salary: £55000 - £75000 pa
Location: London
You may also like: