It has had its positives though, and for us within the PMI qualifications team it has allowed us to advance the ideas we set in place in autumn last year.
We are currently re-evaluating our qualification portfolio, reworking materials and streamlining existing qualifications to provide you with a more focused offering.
This follows a number of activities aimed at ensuring our qualifications contain up-to-date content that meets the demands of employers and enables learners to progress. As a result, we're proposing to reduce and rework the number of qualifications available to learners over the coming months.
The qualifications we're planning to review fall into three groups:
Qualifications where a replacement is already available
Qualifications where a replacement is currently in development
Qualifications where we do not intend to develop a replacement. It also allows us to redevelop existing qualifications that look a little 'tired'.
The first major redevelopment outcome is on the Retirement Provision Certificate.
We started working on the new materials in January, not expecting to be where we are now, but now that these are completed, we have a modern, entry-level qualification that has been designed to meet the needs of a wide range of people and not just pension professionals. They are suitable not just for those who are starting out on a career in pensions but those whose work involves one particular aspect of retirement provision, such as investment, legal or accounting; those whose job requires an overview of the principles underpinning retirement provision. The Retirement Provision Certificate (RPC) is examined in six areas via an 80-question multiple choice exam.
The areas are:
The pensions industry (overall)
The role of Government
Workplace pension schemes 
Trusteeship
Individual pension provision
Investment
It is an excellent way for anyone to get an overview of the pensions sector, and to introduce them to a career in the pensions industry.
If you require any further information then please visit the website https://www.pensions-pmi.org.uk/learning/retirement-provisioncertificate or contact the RPC Coordinator, James Cumine at JCumine@pensions-pmi.org.uk
To help you understand how our plans may affect you and your learners, please contact the Director of Lifelong Learning, Dr Keith Hoodless at KHoodless@pensions-pmi.org.uk
A major development for us this year was the digitalisation of our exams and moving into online provision. This has had its hiccups in that individual internet providers do not all want to seemingly play the same game at the same time, and our understanding of how to ensure the security and integrity of the exam itsel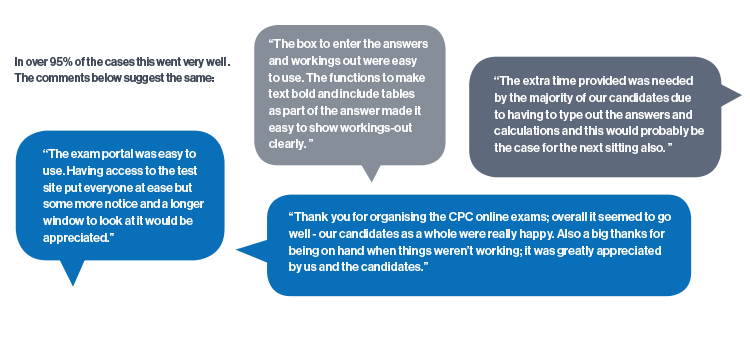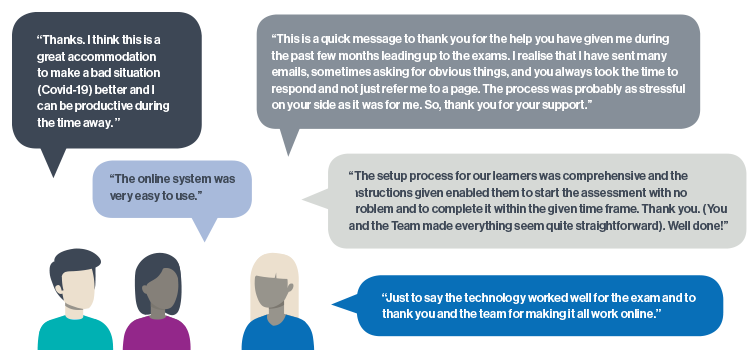 When using a new service and getting exams rolled out there are inevitably some teething problems at the start, as there are with all things, so to hear that the setup process, on the whole, received a positive reception is great feedback; to hear the learners enjoyed their experience is even better feedback. The setup was the most important part for us in the Qualifications Team and demanded the most attention to the learner's needs and queries. We were always on high alert to make sure any potential issues were dealt with, so I have to also thank the team massively for all the help they provided to learners and centres, and the resilience and dedication they provided to make this the success it was.
Finally, a quick word on exams for next year. We have finalised the dates so that you can make the necessary plans for you individually, or for your learners, and these are:
CPC exams – Tuesday 9 March 2021 – Friday 12 March 2021
MCQ exams (APT and RPC only) – Wednesday 24 March 2021
ADRP exams – Monday 12 April 2021 - Tuesday 13 April 2021
CPT Part 2 (soft skills) will still be offered 'on demand' basis, and this is likely to be once every two months, with the option of 4 sittings on the day.
If you have any questions in regards of these times, or bookings, then please contact the manager of the Qualifications Team, Vanessa Jackson, at vjackson@pensions-pmi.org.uk She will be able to assist with any issues.
back to Pensions Aspects Magazine
Last update: 24 November 2020

Salary: £31500 - £37000 pa
Location: Berkshire
Salary: £70000 - £90000 pa
Location: Hampshire
Salary: £55000 - £75000 pa
Location: London
You may also like: